June 15, 2006
Am kamin
Hi Everyone,
I am about ready to start but was wondering if there are any errors in the Am Kamin sweater I should know about. I am just not smart enought with Japanese to figure it out on my own. And for those of you who charted the pattern on computer software which one did you use and why do you prefer it. I am thinking of buying Stitch and Motif.
Thanks again,
Mona
Posted by mona at 11:57 AM | Comments (0)
June 13, 2006
Herbstlied detail
I have been working on the sweater from the cover of the book, not Am Kamin. I thought you might like to see it. I did a LOT of research on Japanese knitting charts and katakana symbols to be able to translate this pattern. That actually turned out to be fun. This pattern was a pleasure to knit as each leaf and acorn appears. What next from this book? Visit
Grumperina's site
to see her insanely complex version of the Mountain Ash shawl from the book. More info at our blog:
http://knityousucka.blogspot.com
Posted by dory at 01:30 AM | Comments (4)
June 12, 2006
AmKamin Sweater
Hello everyone,
Today is my first entry and I want to know everything about this sweater. What yarns you used and how did you figure out how much to use. Needle sizes, gauge just anything you can throw out will be helpful. I am so excited to be here.
Thanks so much in advance.
Mona
Continue reading "AmKamin Sweater"
Posted by mona at 03:52 PM | Comments (0)
April 10, 2006
Finished!
Am Kamin is off and needles and on the wooly board - still searching for the perfect buttons though! I made two alterations, first I used moss stitch rather than seed stitch for the side panels, then I knit a modified T-shape with saddle rather than raglan. You can see the finished project here:
http://tourdirector.smugmug.com/photos/63824868-M.jpg
Dicksie
Posted by dicksie at 01:10 PM | Comments (5)
Finished!
I finished Am Kamin last night and now have it on the wooly board. I am on a quest for the perfect buttons, but that will take some time! As you know, I made a couple of alterations, using moss stitch in place of seed stitch and I knit a modified T shape with saddle shoulders rather than a raglan. I think you can access a photo here:
http://tourdirector.smugmug.com/photos/63824868-Ti.jpg
Dicksie
Posted by dicksie at 12:37 PM | Comments (0)
March 11, 2006
My Progress
I have posted a couple of photos showing my progress to date, including a close-up of my use of moss stitch rather than seed stitch for the side panels: http://tourdirector.smugmug.com/photos/59417424-Ti.jpg
Dicksie
Posted by dicksie at 01:13 PM | Comments (4)
February 27, 2006
Photos
Cara asked me to post my photos here, so I gave it a shot. This is my first time using Movable Type, so I I hope it works. I just inserted the tags from Photobucket. Let me know if there's a better way.
I used Cascade 220, about 7 1/2 skeins, and US 7 needles. Final measurements were 39" bust, 14" from bottom to armhole. The only real modifications I made to the pattern involved row gauge - my 70 body rows only equaled about 12", so I knit to measurements and then made some on-the-fly adjustments to the raglan shaping using Ann Budd's Handy Book of Sweater Patterns (worth it for the schematics alone).
Here's the whole sweater being modeled (complete with gold medal):

Here's a close-up of the shoulder seam and the body and shoulder patterns where they meet: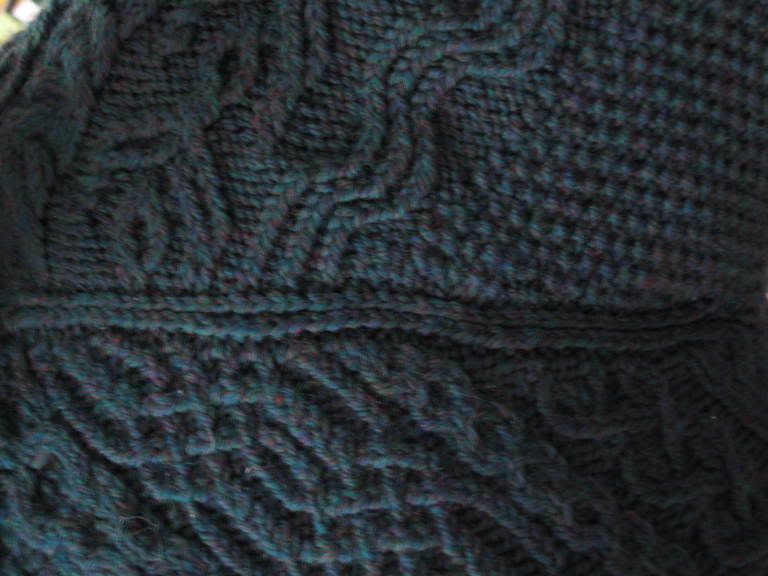 Someone expressed a concern about all the seed stitch under the sleeves - I think it sets off the patterns nicely. And the seam is actually straight, except in this photo.
Here's the collar (and you can see the buttons I chose - bronze with green detailing):


I did the K2tog, yo buttonhole on the chart, and it was surprisingly stretchy. These buttons are 1/2" and fit fine.
I'm going to get more (and better) photos in the sunlight tomorrow (I didn't take these). How are everyone else's coming?
Posted by theresa at 08:30 PM | Comments (6)
Finished for the Gold
I finished Am Kamin for the Knitting Olympics gold - with hours to spare after sewing on the buttons (and nope, haven't seen the leaf buttons). It's absolutely lovely - a gorgeous sweater, and really fun reading the Japanese pattern.
Preliminary photos are on my blog, with full project details and close-ups coming tomorrow.
A few thoughts: I used a full stitch for seaming the raglan lines so that the twisted stitches lined up instead of the half stitch I normally used, and it looked great.
There are 7 buttonholes, not six (one is on the collar), for those of you still buying buttons.
I wasn't sure if we were supposed to bind off or place on holders the neckline stitches, so I left them all on holders, and it created a nice seamless transition from body to collar. Worked well, with a few additional stitches picked up from some decreases.
Posted by theresa at 01:01 PM | Comments (1)
Status & Buttons
I only have 74 more rows to go on each sleeve...only 20ish to go before I start the underarm.
I'm wondering if anyone's seen those leaf buttons?
Posted by tenna at 08:16 AM | Comments (2)
February 24, 2006
Using Excel to graph the pattern
Well, this is a little late, I fear, since it sounds like many of us are in the homestretch of finishing the AmKamin, however, this will help with your next (sweater, lace shawl, insert favorite pattern here).
First you make a Legend-a key to use for the pattern. Here was mine...
T=Twist knitwise or purlwise
K=Knit (RS) purl (WS)
Blank - purl (RS) knit (WS)
FC=right leaning fish with an underline
fc=right leaning fish, no underline
BC=left leaning fish with an underline
bc=left leaning fish with no underline
CB=Cable Back (put 2 stitches on a cable needle and hold in back, knit 2, knit the 2 off the cable needle)
CF=Cable Front (put 2 stitches on a cable needle and hold in front, knit 2, knit the 2 off the cable needle)
I think that was all there was...
When I came to a cable, I would use the MERGE CELLS button to merge the cells where the cable happens. The merge cells button is in your formatting toolbar, and looks like an "A" with an arrow on either side inside a box. If you drag across several cells in excel, then click this button, the cells will "merge" to make one larger cell. I also used this button to merge two "stitches/cells" for the FC, BC, fc and bc's.
Each cell=one stitch.
The return key takes you to the next row, the tab key takes you across the cells.
Leave that 30 row repeat for last...do the easy ones first so you get a "feel" for how things work.
Using the AmKamin book, plot out all the stitches for ONE REPEAT into Excel. Remember, the repeats line up on the BOTTOM, not at the TOP. You may need to add rows to sections to make this happen. Here's how:
Click and drag across the cells you wish to be "dropped down", click on Insert/Cells and a dialog box pops up. Choose "shift cells DOWN". Do this as many times as you need to line up the bottom row with row 30 of that 30 row repeater...there is a short cut to this, and now's a good time to learn it.
Let's say you've just finished plotting H (a two row repeat), and that 30 row repeat. If you click on the cells for H, and drag down 28 rows to highlight a RECTANGLE covering several "stitches", THEN click on Insert/Cells, shift cells down, and your section H will magically drop down so that row 1 of H is even with row 1 that 30 row repeat!
TADA!
Work the other sections in the same manner, REMEMBER TO SWITCH THE ORIENTATION OF STITCHES FOR THE OPPOSITE SIDE (for all the "prime" sections)--once you've got the repeats done, you need to add rows to make the entire sweater, right...?
Let's say that there are 140 rows in the back. You have already plotted 30 rows (from that 30 row repeat), so 140-30=110, so you only need to insert 110 more rows.
Place your cursor over the 1st row "marker" (which is marked with a "1"). CLICK and DRAG until row 110 and release. Notice that the entire rows are highlighted....
Now click on Insert/Rows, and voila! 140 rows!
Now all that's left is to copy the cells UP from the bottom. I know, I know...it's sounds daunting, but it's not if you use keyboard shortcuts.
Microsoft has allotted may different keyboard shortcuts...some you might already know.
Alt F will open the file menu
Ctrl P will print a document you're working on.
etc...
But the ones you need now are Ctrl C and Ctrl V. The first is "COPY" the second "PASTE" and they are invaluable.
Highlight the repeat for section H beginning in the top leftmost cell be sure to get all of both of the rows. Press Ctrl+C. This action causes those cells to copy to the clipboard (which is out there in computer land, a virtual blackboard). Now use your arrow key up and press it twice. Now press Ctrl + V. This will paste the information from the virtual blackboard to the cell you are in (and the succeeding cells). I call it a "fill stroke". Up arrow twice again, and press CTRL + V again.
Repeat until every row up to row 1 is filled in. TADA! You just finished copying that two row repeat to the entire sweater.
For repeats that are 6, 8, 12 and 30, you just arrow up 6, 8, 12 or 30..UNTIL you get to a point where you can't paste 6, 8, 12 or 30 rows (means you have a "partial pattern").
For these, you'll go back to the first row where the original repeats are, highlight however many rows you need for the repeat you want to copy, copy and then return to the top (row 1) to paste it in. Practice it elsewhere if you're worried about overwriting a cell or a row---which could happen, if you don't watch closely. You can always click and drag to highlight anything you don't want and press delete--it's gone!
SAVE FREQUENTLY!
Once you've got all the repeats "posted", then you can mark in the increases/decreases/buttonholes/shortrows-wraps etc in whatever row you want them in. I put mine in a column at the right and in the column at the left--especially on the sleeves, as I start from the left side on the right sleeve.
I made a worksheet for the back, fronts and sleeves. Use the Insert menu to insert a new worksheep if you need it--it does make for easier reading if you do; otherwise, if the pattern for all the pieces are on one worksheet, you may get confused as to what PIECE you're reading. Putting each piece on it's own also helps you because then you know how many rows you've got before you're done! Which is GREAT!
Let me know if you have any problems or questions by writing
drapert@michigan.gov
or
honeytree@voyager.net

Posted by tenna at 09:21 AM | Comments (4)
February 23, 2006
Heading Down the Homestretch
I've been knitting Am Kamin for the Knitting Olympics (follow the progress here), and now all that remains is the right front. I've have row gauge issues from the start, so I have to recalculate the placement of the buttonholes. Anyone have a sense of how far apart they are supposed to be on the sweater?
Posted by theresa at 08:14 AM | Comments (2) | TrackBack (0)
February 13, 2006
Finished the fronts
Well, Sunday, I finished the Fronts, and I must say, things went very well.
Now, I'm casting on for the sleeves, and yes, I plan to do both at the same time. This will take me longer, I'm sure, as every row will be upwards of 240 stitches (at the widest point).
I feel a little disappointed that there is SO much seed stitch (24 stitches each side of the sleeve!). With all the intricacies of the cabling, it just seems like there should be far less off the seed stitch--at least by HALF, since there's only 22 stitches at the body sides...so I was wondering if anyone planned to do anything else "right there".
I've got one sleeve mapped into Excel, and will work on mapping the other, except for one thing...I'm not sure I want to spend the time copying everything in mirror image during my day at work, when I could be doing the tubular cast on...I'm CERTAIN that if I try to do both sleeves at once WITHOUT mapping, I will get confused and make mistakes on the second sleeve...which makes me wonder if I should do one at a time...
Decisions, decisions.
Posted by tenna at 08:00 AM | Comments (4)
February 12, 2006
I love this yarn!
I'm 22 rows into the pattern and I love everything about this yarn - the color, stitch definition. Knitting with it is just pure pleasure. Here are the photos:
http://tourdirector.smugmug.com/gallery/529635
They are on the bottom of the third page - sorry, I couldnot figure out how to link to just the specific AmKamin pics.
Dicksie
Posted by dicksie at 11:14 PM | Comments (4)
February 09, 2006
New yarn
My last entry was about the Jamieson Aran. I added to my Bainin swatch and it looked fine, then when I actually cast on the rib band (the whole thing - I'm knitting it in one piece to the armholes) it looked/felt like plywood. Obviously it was much too heavy. Then remembered a huge (outrageously expensive) hank of handpainted silk/wool I bought years ago and had never found the perfect design for. It was classified as sportweight (the old 5 st/inch designation), and I began swatching yet again. Well, I couldn't be more pleased. It's absolutely lovely. Now I know why all of you who have swatched the Cascade 220 are happy with it - the weight is quite comparable. The color is a brilliant blue-green, and any of you who have used Schaeffer silk/wool will see that this yarn is identical in weight and texture. As soon as I get a little further into the pattern, I'll post a photo to our gallery and give the address.
Dicksie
Posted by dicksie at 12:54 PM | Comments (1)
February 06, 2006
Roll Call...
Well, I'm through the 3rd button hole. I've mapped the decreases and I'm only about 34 rows before they begin.
I had to reknit a cable--don't know HOW I made the error, but it was too plain to just let it lay. I frogged the cable and reknit it. I made the same sort of mistake on the back, and frogged down about 10 rows (cable only) and then SWEAT BULLETS reknitting it.
I suppose it's true that after you do it once, the second time is MUCH easier.
So where is everyone else?
Posted by tenna at 08:51 AM | Comments (3)